Things to Do and See in and Around Boothbay Harbor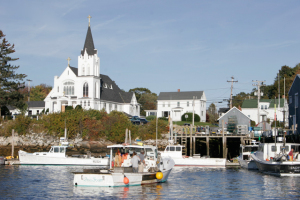 If you're looking for the authentic mid-coast Maine experience, this is it. Perhaps the most scenic body of ocean water on the eastern seaboard, mid-coast Maine features scores of islands, historic lighthouses, quiet little protected harbors and towns offering clothing and craft shops, art galleries and restaurants. A wild life paradise; ospreys and bald eagles nest high in the spruces along the rugged shores, harbor seals complete their annual pilgrimage to quiet coves and dolphins and whales loll about in the waves.
10 reasons to choose Sunny Woods House for your Maine vacation:
Take in the gardens and sculpture from our generous decks with a good book and your favorite beverage.
Enjoy our kayaks and canoe. Swim in warm fresh water West Harbor Pond from a private dock. (Just a 5 minute walk down a private trail from the house.) Skate, snow shoe or cross country ski in the winter. West Harbor Pond is a beautiful 84-acre freshwater lake, designated and protected by the state as a Great Pond. It is home to an abundance of fish and wildlife.
Fish off the dock or a canoe on the lake. Ice fish in the winter or skate out to visit the ice huts.
Cycle on the bikes included in the rental or hike nearby Land Trust trails. Take your camera!
There is no better place to work (if you must!) Free WiFi and an unlimited long distance land line.
Watch the collection of DVD's… on the HUGE 62 inch wall-mounted flat screen TV in the recreation/media room.
Use our discount tickets to visit the Coastal Maine Botanical Gardens, 248 acres including ornamental gardens, the Children's Garden, the Garden of the Senses, art and ecological exhibits, concerts, café and gift shop.
Sunny Woods House welcomes pets.
Accept a 5% discount if you are an educator or in the military, with our appreciation.
We'd enjoy helping you plan your Maine vacation—where else can you access a lake, be two minutes from the ocean and only one mile from the heart of Boothbay Harbor?
For more ideas of what mid-coast Maine offers and calendars of events visit: boothbayharbor.com and midcoastmaine.com
For more information on some of Boothbay Harbor's attractions, read on…
Boothbay Region Land Trust (BRLT)
Route 27, Boothbay Harbor, ME 04538 / 207-633-4818
www.bbrlt.org
30 miles along 18 beautiful coastal and woodland trails within 20 minutes on the peninsula are open for the public's enjoyment, free of charge. One trail begins two minutes from Boothbay Cottages. Trail maps are available at the BRLT office, chamber of commerce and the individual trail sites. Trails vary in difficulty, so pick the one that matches your ability. All but the Damariscove Island trail are dog-friendly. Celebrating 37 years in 2017. Check the web site for guided walks and events. Guidebook, maps and calendar of events are also provided in Sunny Woods House.
Coastal Maine Botanical Gardens
Barters Island Road, Boothbay, ME 04537 / 207-633-4333
www.mainegardens.org
Visit Maine's world-class botanical garden and experience extraordinary ornamental gardens, miles of waterfront and woodland trails, the elegant Visitor Center with Kitchen Garden Café and Gift Shop, Fairy Village, indoor and outdoor art exhibits, and stonework and sculpture beyond compare. At 248 acres, this is New England's largest botanical garden.Check the web site for exciting events and educational programs including chef demonstrations in the cooking garden, storytelling for kids, art openings, and musical performances. Discount tickets available at Sunny Woods House.
The Opera House at Boothbay Harbor
86 Townsend Avenue, Boothbay Harbor ME 04538 / 207-633- 6855
www.boothbayoperahouse.com
Built in 1894, this historic Opera House, open year -round, provides an intimate stage for regional artists and national touring acts. Performances include a mix of folk, jazz, classical, blues, country and world music, in addition to theatrical offerings, lectures and classes. Check the web site or local Boothbay Register newspaper for a schedule.
Boothbay Country Club
33 Country Club Road, Boothbay, ME 04537 / 207-633-3673
www.boothbayharborcc.com
18 hole championship hole course with beautiful views. Restaurant is open for lunch and dinner.
Boothbay Railway Village
Route 27, P.O. Box 123, Boothbay ME 04537 / 207-633-4727
www.railwayvillage.org
Take a ride through woods and an historic village on a train pulled by a coal-fired, narrow-gauge steam locomotive. Tour 28 historic buildings, and visit the exceptional antique car and truck exhibit. Check the web site for special events.
Boothbay Region Historical Society
72 Oak St., Boothbay Harbor, ME 04538 / 207-633-0820
www.boothbayhistorical.org
Artifacts and memorabilia that reflect the region's colonial and coastal origins are on view in seven display rooms in the 1874 Elizabeth F. Reed house. The building also houses documentary collections to help visitors research their fields of interest. Frequent lectures. Free admission.
Maine State Aquarium and Burnt Island Living Lighthouse Department of Marine Resources (DMR)
194 McKown Point Rd, West Boothbay Harbor, ME 04575 / 207-633-9559
www.maine.gov/dmr
Aquarium includes a tide pool touch tank with sharks, sea urchins, starfish, etc., lobster trap display, tanks of local fish, unusual lobsters and more. Enjoy a picnic on the grounds, with a beautiful view of Boothbay Harbor.
Burnt Island Living Lighthouse is a short boat ride away from the harbor. Knowledgeable people take on the roles of the lighthouse keeper, his wife and children in this living history program. Also learn about Maine fisheries and enjoy a guided naturalist hike.
Hendricks Hill Museum
Route 27, Southport, ME 04576 / 207-633-1102
www.hendrickshill.org
Fishing industry artifacts, photo display, and a kitchen with old fireplace and beehive oven. Free admission.
Boothbay Region YMCA
Route 27, Boothbay Harbor, ME 04538/207-633-2855
Indoor tennis courts, indoor track, well-equipped fitness center and state-of-the-art indoor pool complex. Classes include cycling and yoga. Daily and weekly passes available. Visitors are very welcome.
Attractions and towns within 30-60 minutes of Boothbay Harbor
Quintessential Maine communities await you. A vacation in the mid-coast is all about experiencing the out of doors, on land and sea, eating good food and exploring small friendly towns. Our tag line is "life as it should be." Here are some favorite towns, in alphabetical order:
BATH (30 minutes)
Maine Maritime Museum Fantastic interactive ship-building museum. Also arrange behind the scenes tours of Bath Iron Works.
Chocolate Church Performances.
Main Street Named one of 10 Best Main Streets in USA 2009.
BRlSTOL (1 hour)
Pemaquid Point Lighthouse and Park
Pemaquid State Beach
Colonial Pemaquid
BRUNSWICK (45 minutes)
Bowdoin College Museum of Art
Peary-MacMillan Arctic Museum
Bowdoin International Music Festival
Maine State Music Theatre
DAMARISCOTTA (30 minutes)
Reny's Department Store
Main Street with shops, restaurants and galleries
Glidden Point Oyster Co. on River Road. A favorite of oyster connoisseurs.
FREEPORT (55 minutes)
Freeport USA Outlet shopping heaven and home of LL Bean. (Open 24 hours a day!)
Wolfe's Neck Woods State Park
GEORGETOWN (45 minutes)
PHIPPSBURG (45 minutes)
CAMDEN (1 hour)
Camden Hills State Park
Main Street with shops, restaurants and galleries
ROCKLAND (1 hour)
Farnsworth Art Museum and the Wyeth Center
Maine Lighthouse Museum and Maine Discovery Center
Owls Head Transportation Museum and the Owls Head Lighthouse
WISCASSET (20 minutes)
Red's Lobster
Main Street with shops, restaurants and galleries
For more information on vacations in the state of Maine, visit www.visitmaine.com (Maine Tourism)
---
Contact us to discuss your Maine vacation:
Main: 207-633-4328
Cell: 202-257-9241
Email: sunnywoodshouse@gmail.com